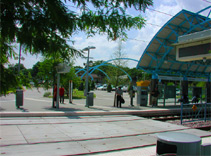 PROVIDES THE MOST COST EFFECTIVE ENGINEERING DESIGN DOCUMENTS IN AN EFFICIENT AND TIMELY MANNER.

Ensure continued client satisfaction with important objectives such as cost control, effective quality assurance/quality control procedures, adherence to established schedules, and thorough coordination and communication.

Primary areas of specialization include transportation engineering, environmental engineering design and management, rapid transit facilities, infrastructure design, hydraulics and hydrologic design, utility design and relocation.