There are several cast members of Green Acres who are still alive and kicking, and occasionally, a visitor to this site (USUALLY Gary R. Moore), bumps into one of them and sends me some photos.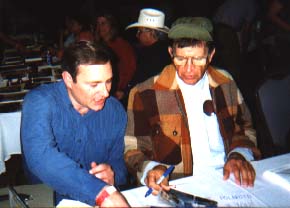 Tom Lester (Eb) and Gary Moore "hard" at work at a recent autograph show.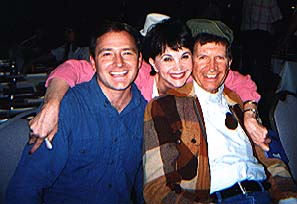 Tom Lester (Eb) and Gary Moore not-so-hard at work at a recent autograph show. Joined by Cindy Williams of Laverne and Shirley fame.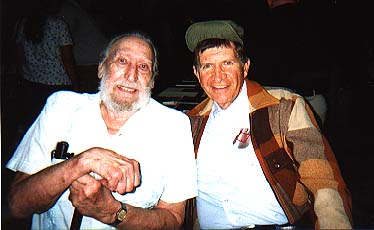 I REALLY like this pic! For those of you who may not recognize this gentleman...think "Newt Kiley"...That's right! It's Kay Kuter (and Tom Lester, of course).



Eb, the ladies man, with Francine York, the prettiest Hooterville farmer ever!

---

Gary R. Moore is a friend of Tom Lester, and recently Gary had the rare opportunity to meet with Eddie Albert at his estate in California. Here's what Gary had to say about both Eddie and Tom.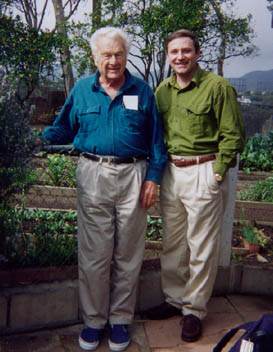 Eddie is 93 and he is doing great! We talked for 2 hours, then his maid made us lunch from the veggies he grows in his garden.

Some info Mr. Albert told me was his favorite film he did was "Roman Holiday," favorite actress was Audrey Hepburn, favorite actor he worked with was none other than our friend, Tom Lester.

Mr. Albert told me he did his first acting by winning some contest in the boy scouts and the prize was he got to read something on radio. That was 1919. I told him the webpages say he started acting in the 30's, but he told me he acted all through the 1920's. He didn't take his first acting class until 20 years into his career.

His favorite TV show was Green Acres. He thinks most TV and films today are shot too fast and don't give the actors time to really act. I think he's right.

I did my impression of Mr. Haney for him and he liked it. :)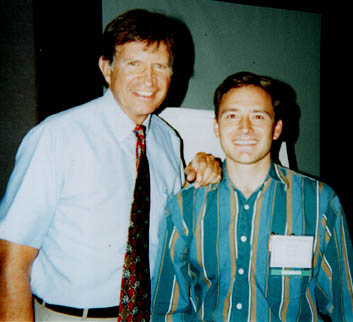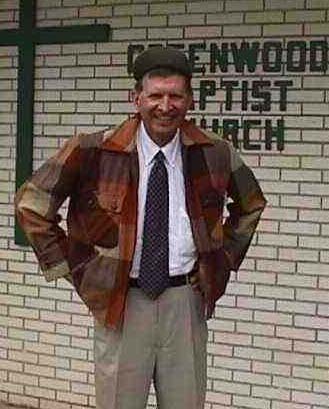 Tom is a good friend. He spends most of his time speaking in churches around the nation sharing his faith. He also speaks on how much Hollywood and TV shows have changed over the years. Tom doesn't use computers so I have to tell him about this special website.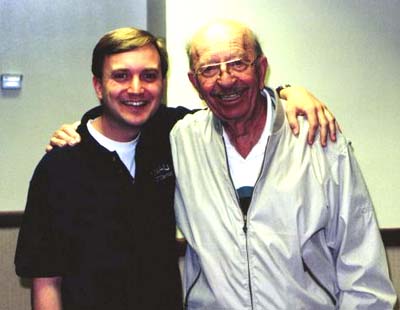 In 1999, Todd Haynie was working in the Computer Training Center at Northern Arizona University. He was teaching an Elderhostel group about computers and the Internet. To his surprise, Frank Cady was a member of the group! He never thought, growing up watching Green Acres reruns, that he would be teaching Sam Drucker how to use a computer.

Todd asked Frank to take a picture with him and Frank graciously accepted.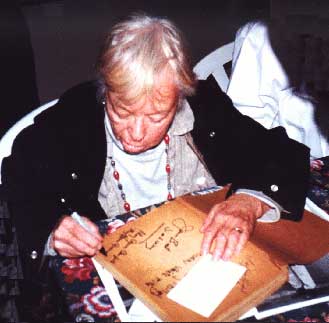 Mary Grace Canfield signing autographs at an event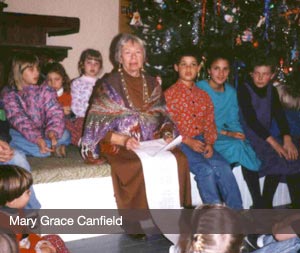 And here she is reading The Night Before Christmas to the children's annual Christmas party at the Sargentville Chapel in Sargentville ME.