THE STORY
Oliver and Lisa "enjoy" their first big rain on the farm. Of course, it is raining almost as much indoors as outdoors. Eb bursts in with the BIG NEWS that Eleanor (the cow) is expecting. Fearful that Mr. Haney will lay claim to the calf, Oliver decides to hide the fact that Eleanor is pregnant.

Due to a series of misunderstandings, the citizens of Hooterville come to believe that Lisa is actually the one who is expecting. Joe Carson tells Oliver's mother about "Lisa's condition," and once again she hops a plane, bus, and train (this time with Dr. Fillmore) and ends up in Hooterville, only to be informed that she is the proud grandmother of a bouncing baby female calf.

The show ends with Lisa informing Oliver that Eleanor is not the only one who is going to be a mother...Yes, Alice, the chicken, is parading her newborn baby chicks, as well.
THE PICTURES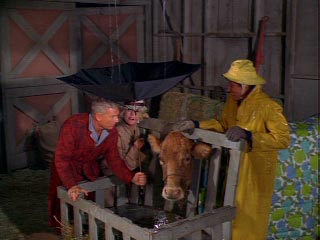 Lisa protects the "expecting" Eleanor from the elements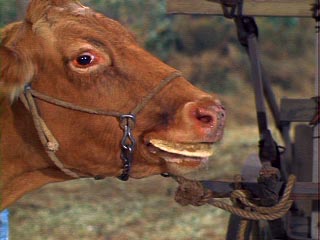 One of few who ever enjoyed Lisa's hot cakes



TRIVIA
Mr. Haney has several relatives who are involved in the legal field...His grandfather, Judge Haney;his Uncle, "Hanging" Haney;and his Cousin, "No Bail" Haney

Joe Carson informs Eunice Douglas that Lisa is expecting a B-A-B-I-E

Lisa names Eleanor's calf after Oliver's mother...Eunice Cow