THE STORY
Eb and his girl Darlene are getting closer and closer to marriage. Eb's future in-laws, The Wheelers, invite the Douglases to supper so Mr. Wheeler can see if they "pass mustard." At first Oliver refuses to go, but when he hears the evening's menu he is quick to accept. During the evening, Mr. Wheeler says he plans on giving Eb $500.00 for a dowry. It's the least he could do, since Eb has already (incorrectly) told Mr. Wheeler that Oliver plans on giving the kids 40 acres and a house.

Oliver tells Eb that he'll give him two acres, the rest is up to Eb to earn. Eb now must come up with a way to earn $2000.00 so he can get a mortgage. He goes all over the valley trying to borrow the money, and even almost takes a loan from Mr. Haney, but he instead decides to get creative!

Eb's first enterprise is to sell his two acres to Mr. Dooley who turns it into a dump, charging people $3.00 per load. Oliver blows his top, since now Eb doesn't even have his land anymore. He makes Eb return Mr. Dooley's money. Next Eb opens "Green Acres Trailer Camp" where he charges guests $5.00 per night. Then he rents out the barn to board six horses for 3 weeks at $2.00 per week.

After Eb's shenanigans Oliver and Lisa are ready to settle down for an evening of romance, however, then they find out about Eb's last venture...he rented out the Douglas's bedroom as a honeymoon suite to a couple of newlyweds. Lisa takes this in good spirit, and suggests Oliver grab the last bottle of champagne and join her in the backseat of the car!
THE PICTURES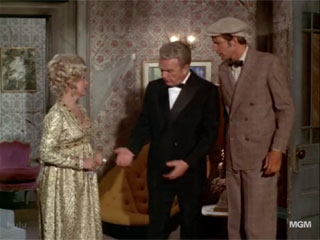 Oliver, Lisa, and Eb dress for supper with the Wheelers.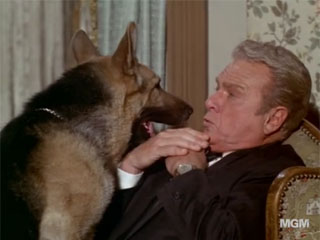 The Wheeler's dog doesn't like people who raise their voice.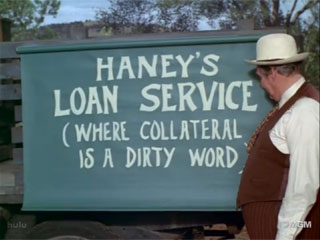 Eb seeks a loan from the WORST of sources!



TRIVIA
The menu for "The first meeting of the families" included baked ham, candied yams, and chocolate cake.

The Wheelers are tea totallers.

Lisa serves the kids caviar sandwiches

Eb picks out his silver pattern from the gas station. The setting cost him $4.00