THE STORY
Ralph Monroe is in love...with Mr. Kimball. Lisa tries her best at matchmaking, however Mr. Kimball feels that when two people get married, one of them should be a girl. Ralph asks Oliver to help her legally change her name to something more feminine. Oliver is pleased with the opportunity to practice law again, however, as it turns out, the state that Hooterville is located in does not have a recipricol agreement with New York, so Oliver must first pass the state bar exam.

Oliver studies hard and passes his bar exam, however, in the meantime, Ralph has gotten herself a new fiance, Evelyn Betts, a mechanic from The Crabwell Corners Garage.

Although it turns out that Oliver did not need his new law license, the show ends happily with Lisa suggesting he "takes an exam" to prove their marriage license is still valid (Hubba, hubba).
THE PICTURES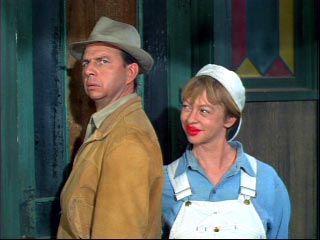 Sultry vixen or girl with fat lip?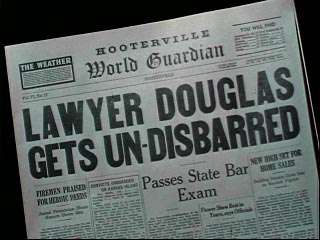 Oliver passes the state bar exam



TRIVIA
According to Mr. Kimball there are three methods for irritating (irrigating) corn: 1)furroughs, 2)sprinkler systems, and 3)rain

Although Oliver went to the Harvard School of Law, the people of Hooterville assumed that he went to either the Harvard School of Chiropody or the Harvard School of Hypnotism