THE STORY
At The Meeting of the Third Tuesday of Every Month Culture Committee of the Every Other Wednesday Afternoon Discussion Club, Lisa and the women of Hooterville decide they want to have a Hooterville Symphony Orchestra.

Oliver keeps trying to explain to them that they would need over 100 people (Lisa suggests "wet backs"). Oliver suggests they instead have a small concert in the park, but Lisa is determined and calls "Poopsie," an orchestra conductor who appearently flirted with her on her honeymoon. He comes to Hooterville, and tries to teach the Hooterville Volunteer Fire Department Marching Band to play Braum's Lullaby, however they can only play Hot Time in the Old Time Tonight.

Sir Geoffrey (poopsie) eventually has a nervous breakdown and leaves.
THE PICTURES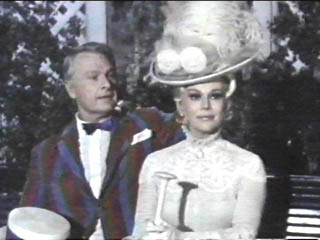 Oliver and Lisa listen to a concert in the park during a fantasy sequence



TRIVIA
Oliver and Lisa went to Monte Carlo on their honeymoon