THE STORY
Eb wakes up Mr. Drucker to find a birthday present…for himself.

Although Mr. Douglas doesn't know it's Eb's birthday yet, Eb is sure that thanks to some "hints" that he's left around, Oliver will rush to Drucker's and buy Eb the $14.00 transistor radio that he so badly wants.

Oliver find's all of the hints, but mistakenly thinks it's Lisa's birthday and rushes off to Drucker's. After all of the confusion is settled, Eb has his radio!

Eb tunes the radio to his favorite radio station WPIXL where Sam Dennis announces they are having a contest and the listener who first correctly identifies all 12 songs will win a fabulous prize.

Although each song sounds the same, Eb keeps getting each song correct, but in the middle of the contest Eleanor the cow accidently eats the radio. Fortunately, the radio continues to play in Eleanor's stomach, and Eb keeps identifying songs. It looks like Eb is sure to win the grand prize, but right before the last song is played, Eleanor hiccups which causes the radio to change channels, and Eb loses the contest.

The fabulous prize turned out to be a one week vacation in Las Vegas, Illinois.
THE PICTURES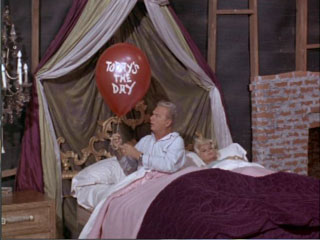 Oliver finds the first of Eb's birthday hints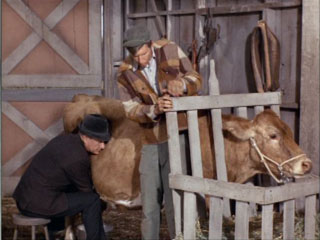 Oliver and Eb discover that Eleanor has eaten the radio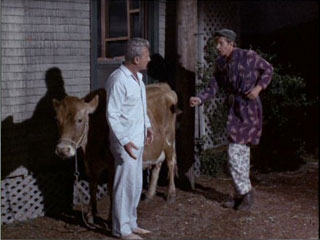 Eb dances to Eleanor's stomach while waiting for the next contest song



TRIVIA
Although we didn't get to hear all of the 12 contest songs, the ones we did hear were:
You're my pizza momma
Horsefly blues
You must be a girl, because your hair is shorter than mine
Three foot two, eyes of purple, has anyone seen my Martian girple?
I've got knobs on my knees from riding a surfboard with you
Don't lose your cool, when you drop out of school
I ought to give you a shot in the head for making me live in this dump


Sign on Drucker's says Open 7 A.M.

Eb's "hints" were: Balloon on sleeping Oliver's finger, "Today's the Day." Mousetrap with string to sign saying "Drucker's Opens at 6:00 AM." And a sign in closet saying "Don't' Forget to Buy Birthday Present."

Lisa's birthday is three months after Eb's

The phone number for the radio station is: 2,4,7 ring 3