THE STORY
Lisa runs out of hotcake flour, and is forced to make Oliver toast. Unfortunately, they are also out of jam, so it's off to Drucker's to buy 600 pounds of flour and a jar of jam. Unfortunately, Mr. Drucker doesn't sell jam, because all the Hooterville women make their own preserves.

Lisa refuses to make her own jam until she remembers the Hungarian Parliament's "Big Dumb Law of 1924," which stated, "All Hungarian women had to do whatever their husbands wanted them to do, no matter how dumb it was."

Not surprisingly, Lisa has a great deal of trouble making peach jam, so Oliver suggests that she ask Mrs. Ziffel, the best jam preserver in the valley, for help. With Doris' help Lisa easily makes dozens of jars of "homemade" jam.

Oliver is very impressed, until he finds out that Mrs. Ziffel's secret is to go to Pixley, buy jam and put it in her own jars.
THE PICTURES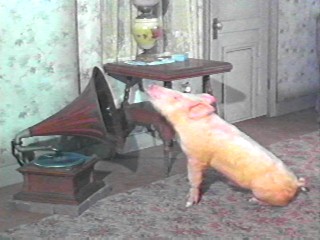 Arnold claims that the RCA Victor dog stole his idea



TRIVIA
Oliver teaches Eb to play chess, which ends up in a big argument over pawns and prawns

Lisa successfully makes toast by putting two pieces of bread in the toaster, then placing the toaster in the oven