THE STORY
Lisa's Uncle Boris sends her a jar of his cleaning fluid, and it is soon the talk of the town!

First it gets two huge oil stains out of Oliver's Cashmere sports coat, then Doris Ziffel uses it to clean a carpet stain she's had for years. When Mr. Haney sees Mr. Drucker using it to get pickle juice out of his new toupee (AGAIN!), Haney tricks Mrs. Douglas into giving him a sample of the miracle cleaning fluid.

While Haney is getting the spot remover analyzed by a pharmacist, Mr. Wilkins, a representative of Household Cleaning Company also expresses interest in the spot remover.

Haney is upset to find out the spot remover is actually just cabbage soup. Apparently, Uncle Boris often used his wife Sophie's recipes as inventions. However, Mr. Wilkins is extremely interested in optioning the spot remover/cabbage soup, after Lisa cleans his very stained suit with it.

Unfortunately, it turns out that the spot remover was actually what Uncle Boris used to burn holes in tanks during the war. Oliver's sleeve dissolves, as does the Ziffel's floor, Mr. Drucker's toupee, and Mr. Wilkins' entire suit!
THE PICTURES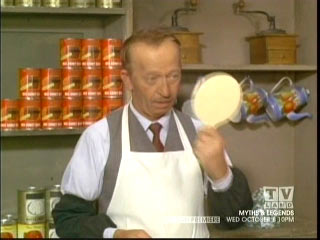 Mr. Drucker admires his new toupee.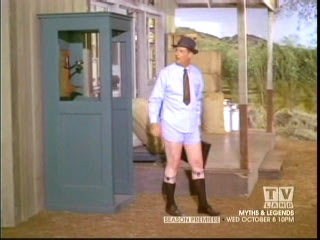 The "spot remover" dissolves Mr. Wilkins' entire suit!



TRIVIA
Mr. Ziffel has a "war wound" from when some MP's threw him out of a bar.

Mr. Ziffel's favorite show is "Prudence Pennypacker."

Mr. Druckers toupee size and style was 7 1/8, Chestnut brown.

Aunt Sophie's Beef Borscht was also good for taking the rust out of pipes.

The recipe for Uncle Boris's "spot remover" was: three parts horseradish, 2 parts paprika, a trace of garlic, water, boiled potatoes, and shredded cabbage.

In a shocking statement, Eb claims that he has seen enough X-rated movies to know what was going on!