THE STORY
Oliver and Lisa are awaken at 5:30 A. M. by Alf and Ralph, who once again have started working on the Douglas' bedroom.

Lisa decides to make breakfast, and since Oliver complains about her hot cakes, tries cooking something different for a change--"fried oatmeal" (open a container of oatmeal, put it in a frying pan, heat, and serve).

After breakfast, Oliver and Eb are preparing to take down the fence between his 160 acres and the 140 acres he has just purchased, when suddenly a sky rocket "shoosts" into the air and Eb, Alf and Ralph hop into Mr. Haney's "Hooterville Volunteer Fire Department Truck" and whisk away towards Newt Kiley's place.

Oliver is upset that no one has asked him to join the Volunteer Fire Department. Later, in Sam Drucker's store, Joe Carson, the fire chief, says that Mr. Douglas can join IF he can play a marching band instrument. His explanation is that, "We have more parades than fires."

Oliver is accepted into the Fire Department, and must spend several days on "sky watching duty." He takes his responsibilities VERY seriously, and ends up with a stiff neck and fending off Lisa's amorous advances because, "...The American Fire Fighter is one of the backbones of this country, etc, etc..."

A sky rocket "shoosts" across the sky, he tries to call the other volunteers but the phone company closed at 9:30, he and Eb rush to his car, "Aren't you going to bring your instrument Mr. Douglas?" queries Eb. Alas, it was a false alarm, Chief Carson had called an emergency band practice and Oliver is kicked out of the fire department for not bringing his guitar.
THE PICTURES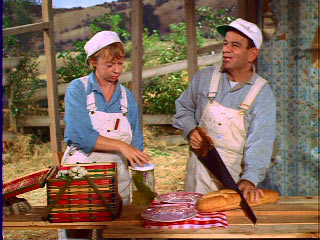 Alf and Ralph on their coffee break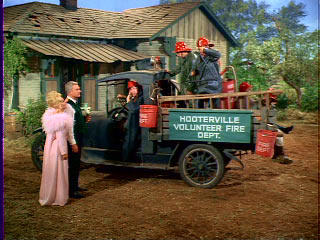 The Hooterville Volunteer Fire Department truck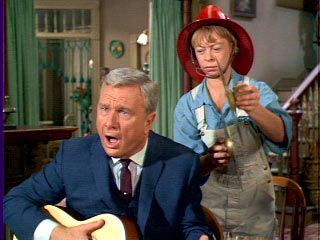 Oliver at marching band practice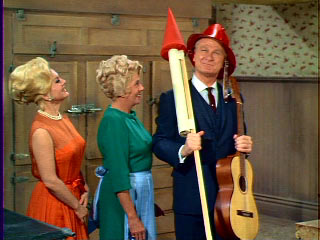 Presenting the proud, new fireman



TRIVIA
Oliver can play both the piano (not a marching instrument) and the guitar (close enough)

"Hot time in the old town tonight" is the only song that the Hooterville Volunteer Fire Department Marching Band knows.

Lisa learns to cook a fried egg! She accidentally drops one on the stove while trying to put it in boiling water to learn how to make a soft boiled egg