THE STORY
The new Hooterville phone book comes out, and Oliver is upset at Lisa for having him listed as an attorney at law. He fears that the phone will ring off the hook, and he will be unable to do his farming.

Lisa is more concerned with figuring out how to fold an egg so that she can bake a cake.

Days go by, and Oliver becomes annoyed that NOBODY has called for his services as an attorney. During a visit, Mr. Kimball tells Mr. Douglas that he has received over 87 phone calls since he was listed as a county agent. Oliver begins to imagine that he hears the phone ringing, finally, he does receive a call from Harry Bleedswell who states that he saw Oliver's listing. Oliver invites him over, thinking that he is a potential client.

As it turns out, Mr. Bleedswell works for the Pixley Chamber of Commerce and wishes to sell him advertising. Lisa accidently burns Mr. Bleedswell's hat (while trying to cook her cake), he tries to leave, but he falls on the cake, then is hit in the face with a board by Ralph, and his car is crashed into by Mr. Haney. Oliver finally has a case, his own.

The episode ends with Lisa serving Oliver her newly completed cake, in it they find a thermometer, spoon, salt shaker, earing, and one of Oliver's neckties.
THE PICTURES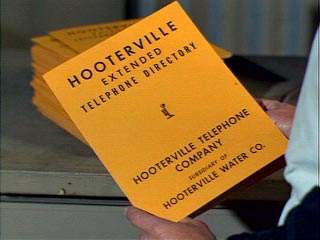 The new phonebook's here!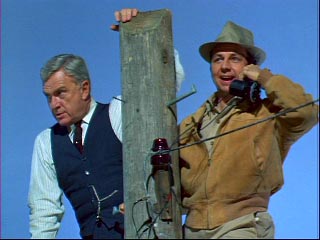 Mr. Kimbell gets a phone call (for legal advice) while at the Douglas's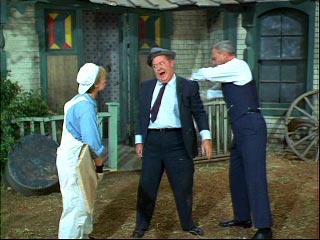 Mr. Bleedswell (played by "Otis the drunk" from The Andy Griffith Show)
threatens to sue EVERYBODY



TRIVIA
Alf and Ralph offer to build Oliver a "Lawyer Stand" ("...like a fruit stand except you sell law")

When Lisa finds out that a pound cake doesn't have to weigh a pound, she decides to make one that weighs twenty pounds

The next edition of the Hooterville phone directory was scheduled to come out in 1972