THE STORY
The Monroe Brothers finish the Douglas's bedroom. Well, except for plastering the walls, putting down a wood floor (to cover the slanted concrete slab with footprints in it), adding a fireplace, putting a back wall in the closet, and fixing the closet door so that it will not fall off the track when opened.

Oliver decides to do a little repair work of his own, and while putting up a television antenna, falls through the roof and sprains his ankle. While laid up in bed starving to death, Oliver gets several visitors. Mr. Kimball, Mrs. Ziffel, Alf, Ralph, and Bobbie Jo (from Petticoat Junction) all come to see if Oliver is okay and to bring him food. Unfortunately for Oliver, they all get involved in watching the Multi-Million Dollar Movie Matinee, Frankenstein Meets Mary Poppins, and eat each other's food.

The show ends with Lisa cuddling with Oliver after finding him in the barn with a discarded chicken bone trying to get some rest.
THE PICTURES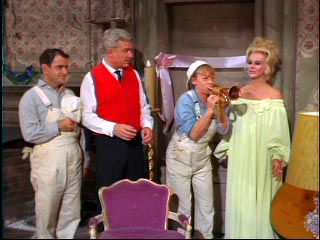 The official bedroom finishing ceremony, as performed by Alf and Ralph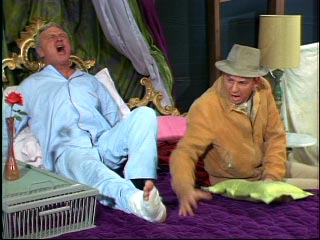 Mr. Kimball tries to get Oliver to forget about his sprained ankle



TRIVIA
Lisa makes "vaffles." She cooks hot cakes, then squishes them in a waffle iron to give them ridges

Eb teaches Lisa to cook canned soup (and she actually does it correctly!)