THE STORY
The generator which Lisa and Oliver have been using finally shorts out with a mighty "DRIK." Oliver finds out that the reason they still do not have electricity is that Sam Drucker forgot to mail in their application seven months ago.

Oliver goes to The Hooterville County Power, Gas, and Water Company to try and get the situation rectified. First Lawler the installer, installs an electric meter so that Peter Greeter the meter reader will be able to determine how much electricity the Douglas's are using, however the meter is defective (it is already running even though the electricity isn't hooked up). Next it turns out that Mr. Haney still owns the only strip of land suitable for placing electric poles to the Douglas's farm. Finally, it turns out it will take six months to return the meter to the factory (in Japan) and get a new one.

As a favor, the power company puts up a pole (next to the telephone pole) with an electric socket at the top. Oliver is not happy, but at least they can now have power without shorting out a generator every time. He climbs the pole, plugs in an electrical cord and "DOUBLE DRIK ! " He shorts out New York City, nine eastern states, three Canadian provinces, and plummets thirty million people within eighty thousand miles into total darkness.
THE PICTURES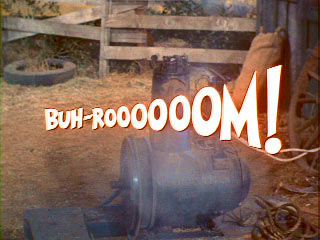 Oliver's generator finally gives out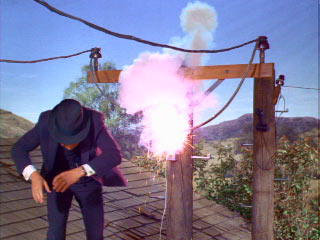 Oliver's first taste of Hooterville electricity



TRIVIA
Mr. Haney was going to sell the land Oliver needed to put electric poles on, to Mr. Douglas, for $800.00. But out of the goodness of his heart, he agrees to sign a quit claim deed (provided Oliver buys, from him, an electric stove, a fur lined electric milking machine, a milk/cream separator, a butter churn, and a permanent wave machine)

According to the narrator, this episode takes place on Tuesday, November 9, 1965