THE STORY
Mr. Douglas walks into the barn while Eb is singing a folk song. He explains to Eb that he collects folk songs, keeping both factual tales and legends alike alive. Eb suggests that Oliver write a folk song about Molly Turgiss. Each time the name Molly Turgiss is spoken, an object mysteriously flies through the air and breaks or strikes someone. Oliver tries desperately to learn, from the townspeople, about the tale of Molly Turgiss, however, they are all afraid to say her name, let alone talk about her. Finally, feeling safe because the ghost of Molly was driving Mr. Haney's truck into Pixley, Mr. Kimball tells Mr. Douglas the sad story.

Molly Turgiss was a woman who at one time had lived in Hooterville, but was so ugly that nobody liked her. She left town, but vowed that in the future, she would haunt anybody who mentioned her name.

Lisa comes to the rescue, when she meets Molly's ghost and offers to "fix her up" if she will stop throwing things. Molly agrees, Lisa does her best to make Molly beautiful, and Molly's ghost leaves the town in peace.

The show ends with Molly (in her last act of haunting), breaking a guitar over Oliver's head for writing such a bad song about her.
THE PICTURES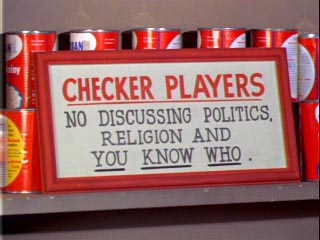 The townsfolk do not want to talk about Molly Turgiss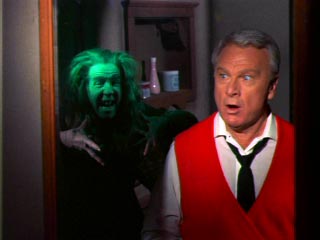 Oliver sees the ugly Molly's ghost reflected in a mirror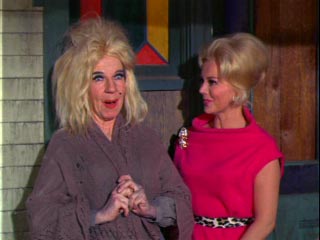 Molly agrees not to haunt anyone again, now that Lisa has made her "beautiful"



TRIVIA
Only dogs liked Molly Turgiss, because she was shaped like a dog biscuit

According to Lisa, "You are only as ugly as you look"

Molly's ghost frequently stole Mr. Haney's truck, drove it to Pixley, and parked it in front of a fire hydrant