THE STORY
Oliver's birthday is coming up and Lisa has no idea what to buy him...At least not until the Hoyt Clagwell blows up again.

Lisa visits Gruber's Farm Equipment Company, in Pixley, and buys Oliver the best tractor they have, The Commander 6000, and asks the salesman to put a big bow on it with a card that reads "Happy birthday from a friend." In order to keep the tractor a secret from Oliver, Lisa has them deliver it to Mr. Ziffel who, naturally (?), assumes that Lisa has bought the tractor for him.

Both Lisa and Oliver try to explain the error to the Ziffels, but upon seeing how happy the new tractor has made Fred and Doris, opt to just let them keep the several thousand dollar item.
THE PICTURES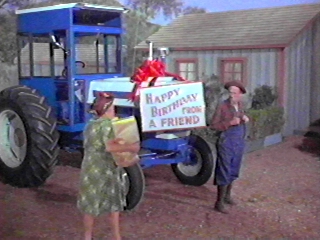 The Ziffels discover that "a friend" has bought them a new tractor



TRIVIA
Lisa makes sure that the new tractor has air conditioning, a two way radio, and a stereo radio/tape deck (Music comes out of each wheel)

Lisa thinks that the Ziffels spell their name "Z-I-effel-effel-E-L