THE STORY
Lisa gets jealous when Oliver is hired, for legal advice, by a beautiful and successful female farmer.

Oliver misses Lisa's hot cake hash dinner while dining on pot roast, new potatoes, home made biscuits, apple pie, and fresh cider, all served by the aforementioned Amy Collins. Lisa goes to Mr. Kimball to try to learn everything about farming, but when dining with Oliver and Amy gets totally "stoned" on champagne.

The next day Lisa overhears Mrs. Ziffel talking about the plot of a soap opera and mistakenly believes she is speaking about Oliver and Amy.

The show ends with Oliver explaining the mishap to Lisa and informing her of his love for her.
THE PICTURES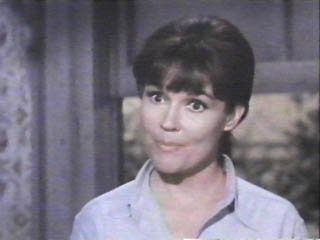 Amy Collins, beautiful, excellent cook, amazing farmer, and single



TRIVIA
Amy Collins has a 1200 acre farm

Both Mrs. Ziffel and Arnold's favorite television show is "Love is Never a Stranger"