THE STORY
The Ziffels go on a second honeymoon, so Oliver and Lisa babysit Arnold. During this time, Arnold gets drafted.

Oliver tries to explain the mess to the draft board, but soon the FBI get involved.

Mr Douglas, "the noted Hooterville Pig Attorney," is able to clear up the situation and everyone is happy, except for Ralph, who finds out that she has been drafted.
THE PICTURES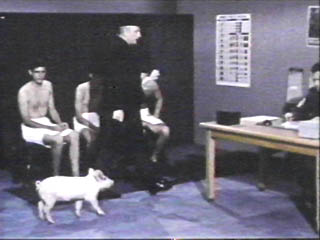 Arnold goes for his military physical



TRIVIA
Both Oliver and Lisa actually see the show's opening credits at the beginning of this episode

Arnold is allergic to strawberries

Ralph has a male cousin named Louise