THE STORY
Eunice Douglas, Oliver's mother, is suffering from exhaustion, so her doctor recommends she visit Green Acres for a rest.

Between Eb on the tractor, her falling off of the phone pole, and Alf and Ralph's hammering, Eunice becomes more of a nervous wreck. The last straw comes when Chief Yellow Horse comes to perform his annual Bear Dance and falls in love with Eunice.

Despite major dowry negotiations with Oliver, the Chief calls off his engagement when he mistakenly believes that Eunice cooked the hot cakes that he is served for breakfast.
THE PICTURES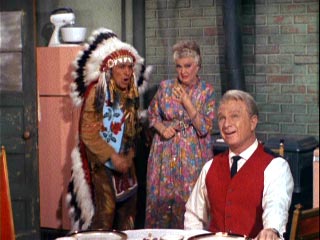 Oliver, his mother Eunice, and his potential new father, Chief Yellow Horse



TRIVIA
The first Bear Dance was performed on the location of Oliver's farm in 1490