THE STORY
A huge defense plant opens in Bleedswell, and everyone from Hooterville plans to move up there to take high paying jobs with crazy benefits.

Lisa doesn't want to lose all of her friends, so she suggests that Hooterville opens up there own defense plant. A vote is taken, and the town decides to re-open the Hooterville Airplane Company, with Oliver as the president (Since it was his wife's suggestion).

Oliver tries to talk them out of it, explaining that jets are far too complicated to make and would cost millions of dollars. However, as it turns out, Hooterville still has an "irrevocable" contract with the U.S. Army to deliver six WWI JN-4 biplanes (Jenny's), so The Hooterville Airplane Company re-opens it's doors (At Simpson's barn).

The military is none to pleased to discover that they are unable to get out of this ridiculous contract, so they decide to order Oliver back into active duty as "Chief Test Pilot for the Hooterville Airplane Company."

The big day arrives, as the first Jenny rolls off of the assembly line. However, the contract seems destined to remain unfulfilled, as, when Lisa christens the plane with a bottle of champagne, the JN-4 falls apart into a million pieces.
THE PICTURES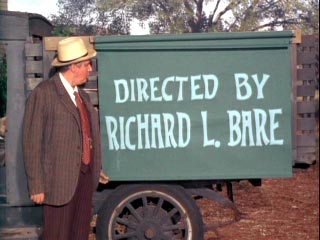 After Lisa dreams of names over her head, Mr. Haney finds THIS surprise.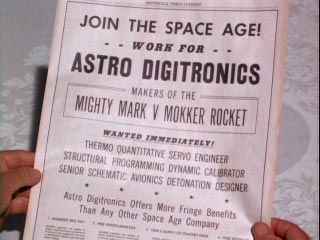 Great jobs, with great benefits, are available in Bleedswell.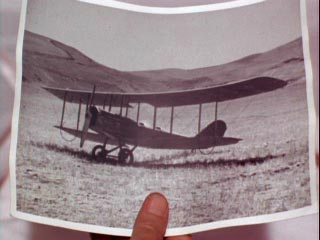 A JN-4 Biplane (Jenny)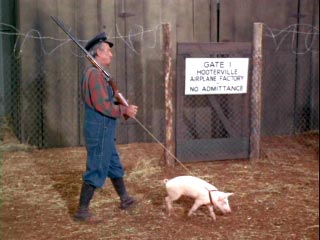 Airtight security at the Hooterville Airplane Company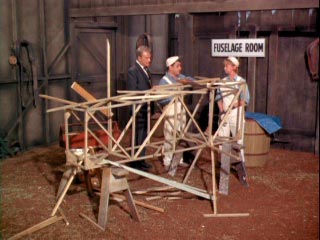 Alf and Ralph "excel" at aircraft construction.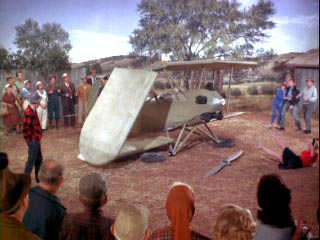 Their first plane doesn't survive its christening.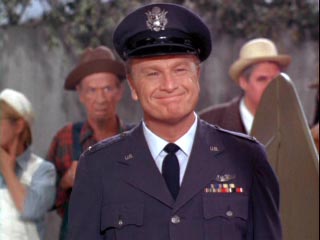 Lieutenant Douglas is relieved that he won't have to test pilot the Jenny.



TRIVIA
Astro Digitronics offers the following benefits: Unlimited sick pay, free psychoanalysis, a year's supply of cracked crab, and 10 paid holidays (including Chinese New Year).

During the war, Fred Ziffel worked as security for the original Hooterville Airplane Company.

Oliver never resigned his commissioner, and as a result, is still a member of the Airforce Reserves.