THE STORY
The HYPAS (Hooterville Young People's Agricultural Society) need a new club house, so the Hooterville Players decide to put on a benefit play in order to earn the money.

The Hooterville Players can't decide between "Romeo and Juliet," "Death of a Salesman," or "I, Wilderness," so they choose to perform "The Beverly Hillbillies."

Eb receives a complimentary script from some guy named Jay Sommers (The creator of the Beverly Hillbillies, Petticoat Junction, and, of course, Green Acres), and decides to "punch it up" to add a few yucks.

Unfortunately, Mrs. Ziffel gets a bad cold, and Eb Sprains his ankle, so the play is without its Granny and Jethro. Oliver and Lisa step in to save the day.

The play never does see opening night though, as at dress rehearsal, Oliver slips on a skateboard, careens through set wall, and breaks his big toe.
THE PICTURES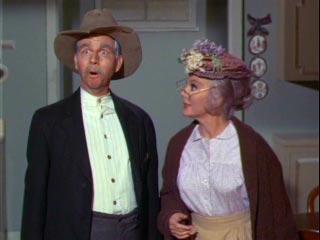 Mr. Kimball as Jed Clampett and Lisa as Granny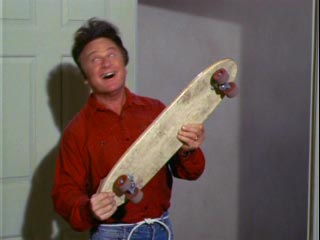 Oliver as Jethro



TRIVIA
Eb's turtle is named Eloise.

Eb was born in Appleville, a small town 300 miles from Hooterville.